In no particular order, here are five great Christmas books that I recommend you buy if you haven't already read them! You may have a different opinion, so let me know in the comments!
Let It Snow by John Green, Maureen Johnson and Lauren Myracle
I read this the same time last year, for a Christmas present, and I loved it!! It really got me in the festive spirit, and I loved all three of the short stories. I enjoyed it because the stories kind of linked together which I thought made it much easier to read. I highly recommend this for anyone who isn't feeling particularly festive yet, and someone who likes romances! I would say it's YA, and mostly for girls.
2. A Christmas Carol by Charles Dickens
Yes, I've gone back to the classics! And who hasn't heard of A Christmas Carol anyway? It is mainly known for the film, but I think the book is way better. It is about a man called Scrooge, who hates Christmas, but over time some things happen which makes him change his mind. I think this is quite a challenge for younger readers, but I did read it when I was eleven/twelve so it is possible! I think anyone above that age would definitely enjoy it, and also it's not too long, which is a plus for some people 🙂
3. A Child's Christmas In Wales by Dylan Thomas
This is one of my favourite books EVER, because it is me and my brother's childhood favourite. My copy is tiny, about pocket size, so it's a very easy and quick read, but I think everyone should read it. I think it shows that, even in the modern world with all our eccentric gadgets and technology, there are MANY other ways to have fun. I think everyone needs that reminder once in a while. This book is a good one to read to children in the days coming up to Christmas, but it's one of those children's books that older people might like as well.
4. The Little Match Girl by Hans Christian Anderson
The Little Match Girl is a beautiful short story that I read a year ago in English class. And it has stayed with me since then because it's a lovely story and it's not filled with the usual Christmas cliché ideas- its more about what it's like to be alone in the time where everyone should be happy. It's very sad but it's worth a read and a think, so click here if you would like to read that, and let me know in the comments if you think it's good too!
5. The Lion, the Witch and the Wardrobe by C.S Lewis
Not many people would think that this is a particularly Christmas book, but because the story's so magical and it's set in a place where there is A LOT of snow, I feel like it should be on this list. It tells the tale of Lucy and her brothers and sisters, who find themselves in a fantastical world forever frozen in winter. It is Book Two of The Chronicles Of Narnia, but you can read it by itself, without reading the other two. People of all ages and both female and male, will like this book.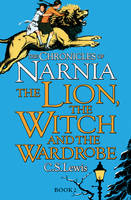 I hope you enjoyed reading this post!
~The Sweet Review